This is the second post about our seventeen-day trip to China in 2016. If you missed last month's post about the struggle to eat dinner, you can find it here.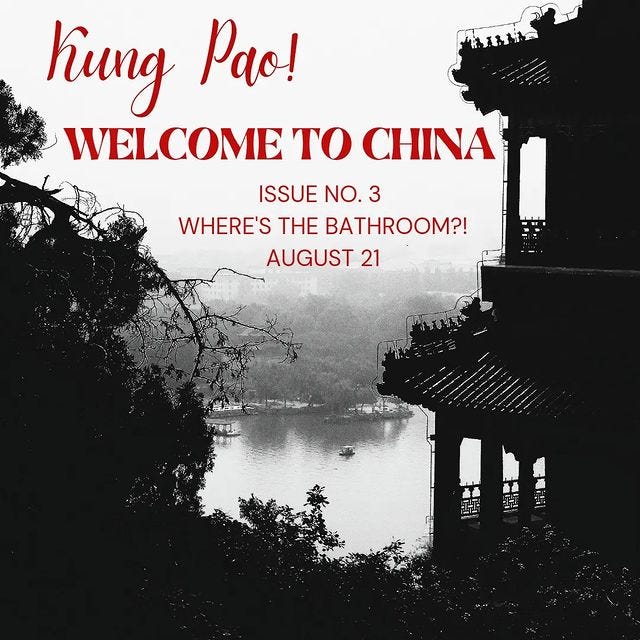 ---
An Unexpected Celebrity
On our first full day in China, we stood in the center of Tiananmen Square, Beijing with our tour guide, Jin. Tiananmen is a vast space, one of the largest public squares in the world, able to hold 600,000 people. That morning there were only several thousand milling about and try as I might to pay attention to Jin's history lesson, something felt a little off to me.
Maybe it was the elephant in the room—or the Square. Something significant happened just a street away from our location in recent history, and Jin kept NOT talking about it.
In 1989, up to one million students had gathered in the Square to call for political reform. The government decided to silence the protests with a show of military force. Eighteen tanks rolled down the street toward the crowd. A lone man holding his grocery bags set himself in their path.
I vividly recalled watching the lead tank try to maneuver around him live on the news, and him replanting himself before it. I marveled at his courage as he halted their inexorable progress for several minutes before onlookers whisked him away to safety. Untold others did not reach safety. The military fired into the peaceful crowd without warning. It was a shocking moment in history that definitely merited a mention on a tour.
I was aware that the Tiananmen Square Massacre was a taboo, even illegal, topic in China, at least in public, but I thought since Jin was alone with us the rules might relax a little. They didn't. Or perhaps Jin wasn't aware that the massacre had happened. The government had that much control over what the public knew.
Maybe my niggling feeling was due to the fact that we were cut off from regular western technology. There was no Google, none of our accustomed text messaging services. They were forbidden in China. Or maybe it was that we'd had to give all of our personal information to the government to obtain the visa. Or perhaps it was the government-run English newspaper we'd read over breakfast that told a very different version of world events, and it was the only opinion available. All of those things had made me aware that the government was closer, and paid more attention, in China than at home. It inspired an on-going sense of paranoia.
I felt…watched.
Thanks for reading Where's the Bathroom?! Subscribe for free to receive new posts and support my work.
While Jin continued to describe all things not Tiananmen Massacre about the Square, I spotted a multi-generational Chinese family, eight of them at least. Their matriarch, a wizened old woman, stared at me unabashed. She poked an old man and whispered. He looked over and poked a younger man. The poking and looking cascaded down the generations until a boy of about two got scooped up for a better view. I turned around to see if something interesting was happening behind us. There didn't appear to be anything exciting going on.
When I turned back, I noticed two more people looking at us. About a hundred feet away, two men in their upper fifties put their heads together, whispering and laughing, not once averting their eyes. One of them pointed a camera at Faith and me and snapped a photo. I put my arm around her and turned our backs to them.
It wasn't my imagination; I was being watched.
I did a quick once-over of my clothes. No obvious stains or holes. While inspecting the rest of the family, I wiped at my nose. Nothing there either. A quick pat of the hair assured me that all was well in the head region. A discreet sniff didn't reveal any bad odors.
Just then, a tiny woman seized Aidan by the elbow and dragged him away. "Hey!" I shouted. She let go, smiling and bobbing her head by way of apology. She pulled a boy of about ten over and positioned him beside Aidan and then trotted to a distance. The flash of a camera discharged. Aidan looked bewildered.
"Jin, why is everyone staring at us?" I asked, mystified and a little irritated.
He exhaled and looked at his shoes, like he had hoped we wouldn't notice. "Many of them have never seen a westerner before. They live in very rural areas and save their whole lives to come to the capital." Curiosity was one thing, but people were scrutinizing us as though we were mythical creatures—they do exist!
Jin funneled us through the Gate of Heaven, below the watchful eyes of Chairman Mao, into the Forbidden City, the once-exclusive residence of the emperor and his court. Several adults touched Aidan as they walked by—ruffling his hair, touching his shoulder, shaking his hand. While we were seated in the shade of a temple, one old lady went so far as to drag him onto her lap.
I could sense that the attention was well meaning, but it was disconcerting nonetheless. Jin must have noted my distress because he said, "They think that they will have good luck by touching him." I thought how terrible it must be to be a celebrity and have this kind of attention all the time.
I hoped for smaller crowds and more anonymity at the Great Wall, which I expected to be one of the highlights of our visit. On the two-hour drive, I asked Jin how many times he'd had to visit the Great Wall as a tour guide. He replied that he had been over two hundred times. That year. It was July. I took pity on him and said he didn't have to go up with us. I could see the gears start to turn in Aidan's head. If Jin could stay in the van, maybe he could stay in the van…
Before he could finish the thought, I gave him my not-a-chance-dude face.
When I had asked the kids back in the planning phases of the trip, "Do you want to visit the Great Wall of China?" What I was really saying was, "Aren't you as excited as I am to visit one of the greatest wonders of the world?"
They did not return my enthusiasm. What the kids heard was: "Do you want to climb steps as steep as ladders in ninety-eight-degree heat and sweat through your clothes beneath merciless sunshine for an unknown distance and duration?"
I knew I would have to sweeten the deal to get them to go willingly. The Mutianyu section of the Great Wall has an alpine slide that returns visitors to the parking lot. It was the perfect carrot to dangle in front of the kids while I was beating them with the mandatory tour stick.
Jin had armed us with the pertinent Great Wall facts before we left the van: construction began in the 600s BCE and continued in fits and starts for the next two thousand or so years. It is the longest building on earth with roughly thirteen thousand miles of walls. And after an hour or two in oppressive heat, with only the occasional guard tower or troop barracks for shade, I'm sure the kids felt like I'd force marched them across every stone block of it.
When we were finished exploring, we descended the stairs to the alpine slide. The line stretched several hundred feet along the base of one section of the wall. After about fifteen minutes, we had only moved a fraction of the way. It was shaded, but we were out of water and out of patience with the heat.
The line sloped down toward a metal lean-to where the track began. One man was collecting the single-rider vehicles sent back up from the bottom on a conveyor belt. He slapped them one by one onto the track to ready them for his partner who helped to strap in the tourists and send them on their way. It was this second man who noticed Aidan. He did a double-take and waved us down to him. Sheepishly, we passed all of the other waiting people. I listened for the angry grumble that would inevitably follow.
The man gave Aidan a huge grin. "Hello, my friend!" Aidan greeted him back. The man asked him his age and where he was from. "Come," he beckoned. We crowded closer to him as he took out his phone.
"Yesterday, picture of me and Ian McKellen." He swiped.
"Last week, me and Matt Damon." He swished his finger back and forth between himself and Aidan. "Now, me and you." He grinned and handed me his telephone, standing proudly beside Aidan, an arm around his shoulder. Several more people left the line to pose and take photographs before resuming their positions.
The operator loaded Tim up first and sent him down the tracks. I glanced up the line of people behind us. Not only had we jumped it, we had shut it down while the fan photos were taken. Oddly though, I didn't hear anyone complain.
As we sped one-by-one down the tracks to the parking lot in record time, I decided that maybe being a celebrity wasn't so bad.
*Watch Faith's three minute video of the seventeen day trip to China in 2016 here.*
---
More Free Reads
Check out The Sample -a free service that curates hundreds of articles and newsletters and delivers only those that match your specific reading tastes. Clicking the link helps to support my writing by spreading the word to other readers.
And for more humor, grab these free reads while they last!
Or if you're in the mood for exotic locations, check out these stories set in Europe. Includes my humor story about a disastrous day in Santorini, Greece.